Strategy International is the holding company for a range of unique and complementary strategic business development organisations and their extensive UK and global networks; membership organisations, The D Group, The Future Group and British Expertise International. We are based in London, operate at Board and C level and are currently active in over 30 countries around the world, serving over 300 companies and institutions employing in excess of 7 million.Welcome to the Strategy Group website, combining news and events from all three organisations.
WELCOME TO OUR NEWEST MEMBERS
Homepage - Newest Members (Gallery)
STRATEGY INTERNATIONAL EVENTS
Strategy International runs a combined briefing programme of 250 events annually. Click the calendar below for recent and forthcoming events, or click here for a round-up of recent events.
Perspectives
Perspectives is a new platform by Strategy International, focused on the UK's international outlook. We will be publishing three articles per month, including a monthly podcast. A summary of each months 'Perspectives' can also be received as an email by signing up on the website below.
Combining the expertise, access and networks of Strategy International and its affiliated companies, Perspectives takes a positive, outward-looking stance on the UK's overseas trade and policy interests. Visit website →
On Tuesday morning, we were treated to a brilliant roundtable discussion with the Ambassador. He shared an update about upcoming infrastructure projects and opportunities in Afghanistan; spoke about…
On Tuesday BEI hosted a presentation on EBRD's work in Central Asia by Bruno Balvanera, Managing Director for Central Asia, who was joined by his colleagues Neil McKain, Regional Director…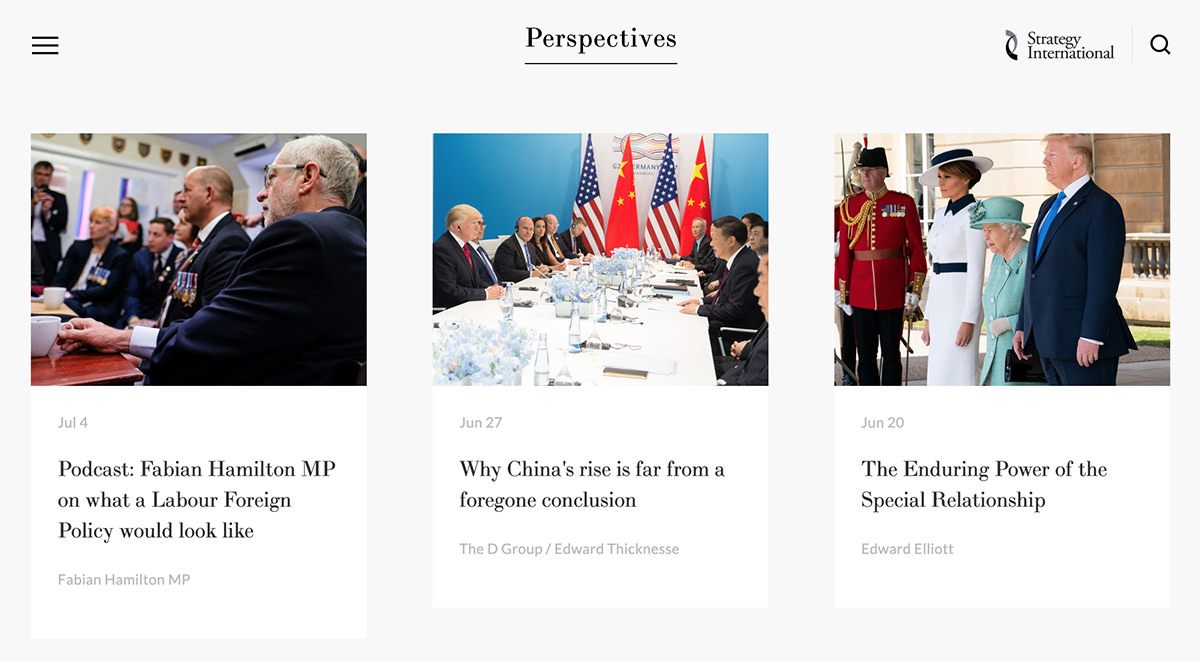 A busy week on a number of fronts whilst the competition to be the UK's next PM twisted and turned almost as much as England teams' fortunes and the horse-trading going on…
23 GRAFTON STREET
We are based at 23 Grafton Street. The D Group, British Expertise International and Future Group events are usually held here. A year round range of exhibitions is put on by D Contemporary. The reception and meeting room facilities are available to our members.
D Contemporary is part of the group's activities and shares our home in Mayfair. As well as exhibiting outstanding UK art and providing cultural networking and entertainment events for our members, it also provides an arts and culture showcase for cutting edge contemporary work from markets where we operate around the world. Upcoming exhibitions can be viewed here.